The Pale Beunen - NL 5247334-75
In the first half of the seventies a "wonder on wings" was achieving an unbelievable record in the Dutch part of Limburg. It was the "Vaaltje" of Anton and Henk Beunen of Ohé en Laak (NL).
Vaaltje (the little pale) NL71-223961 won:

2 nat. Saint-Vincent 15454 p. (winning a car)
5 nat. Dax 6835 p. 974 km
8 nat. Saint-Vincent 15417 p. 990 km
4 prov. Bergerac 4342 p. 803 km
77 Montargis 3563 p. 418 km

amongst a lot of other good prizes.

Vaaltje was a Bricoux-Willequet-Tournier bird.

The intelligent look of Vaaltje
Jan Schreurs and Bèr Vandueren managed to acquire a youngster out of the parents of Vaaltje which gave them a full brother to Vaaltje. They called him "Vale Beunen" (the Pale Beunen) or sometimes "Brother Car Winner". This very nice pale coq had the ring NL 5247334-75.
Pedigree
NL 525103-60
Oude Vale '60

NL 214440-53
Oude Vale 53
Bricoux via Jos Hermans




NL 586588-59
Willequet-Hen
via Luijks
NL 637445-55
Donkere Witpen
old strain Beunen
NL 465853-58
Blauwtje
Willequet
B 5201129-69
Oude Blauwe 69
Tournier Lommel
Tournier




Tournier





Offspring
The Vale Beunen was a wonderful breeder. He was harmonizing very well with the Cattrysse-Vander Espt line which resulted in an excellent offspring.
Sire of 5251964-77, 1 prov. Perpignan
The Vale Beunen was first mated with the very best hen Jan Schreurs had: the Oud Blauw, 740-69. Out of this mating came the Vale Hollander (pale Dutchman) 5251964-77.
This Pale Dutchman won:
1 prov. Perpignan in 1980
10 prov. Lourdes
Sire of 5167068-80, mother of Caesar Pau
The Vale Beunen mated to the nest mate of the Blauwe Marathon gave an outstanding breeding hen 5167068-80.
She was an excellent partner to the Superkweker 047. Together they bred:
Sire of 5311276-85, mother of the Invalide
With another sister to the Blauwe Marathon, the Vale Beunen gave another excellent breeding hen. Jan Schreurs applied the same success formula and mated the hen with the Superbreeder 047. Out of this coupling came a.o. the Invalied (the disabled) who was seriously wounded as a youngster and passed the rest of his life in the breeding loft.
The Invalide, a blue coq B 5012082-89 gave:
and is grandsire off
Further offspring
Even today, the blood of the Pale Beunen is present in a lot of good pigeons: Saffier, Pyreneeën Lady, Rode Brinkman, Barcelona Guido, 82 nat. Barcelona Dark Angel, Melissa, Pursang, Claudia, Vale Barcelona I, Vale Barcelona II, Kleine Barcelona, Barcelona King etc.

Oude Vale '60
Sire of Vaaltje and of Vale Beunen
NL 525103-60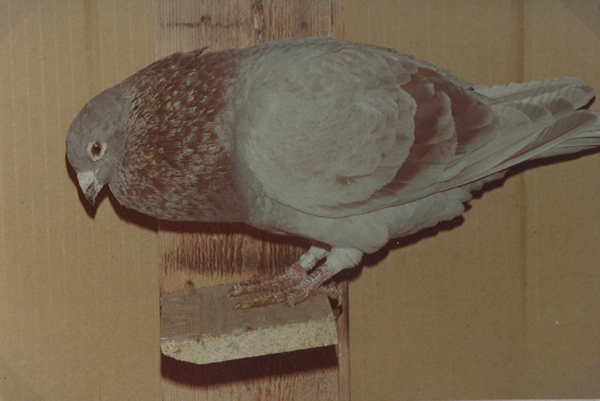 Son of the Old Pale ' 53, Bricoux via Jos Hermans Luithagen.
He introduced the red genome of the Bricoux pigeons into the Schreurs strain.